I am delighted to be taking part in a joint project between the University of Brighton and The Regency Town House . The project is called Silhouettes, Fashion and Reality: 1750-1950 and it makes use of a large private collection of silhouettes. The purpose of the research is to date and contextualise the collections in historical and material culture settings.
My area of research falls within the Regency period, 1810-1820, and the silhouettes I am using show only profiles of the head and shoulders. My silhouettes are all of women and they represent a range of ages which is leading me towards an exploration of the experiences of femininity in the period.
In terms of dress history, I am mainly looking at hats and bonnets and I am trying to make links from the silhouette collection to objects in museum collections and to contemporary fashion plates. Many of my images are of older women in the home and therefore they are not necessarily wearing the latest fashions as depicted in Ackermann's Repository. Although the three white cotton plain caps shown half way down this page from Ackermann's (1818) are close to what I'm looking for.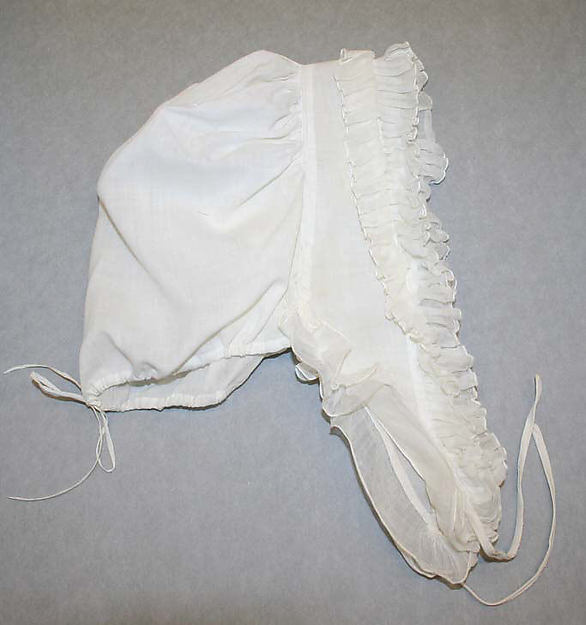 As part of my research I am currently reading Regency Etiquette The Mirror of Graces (1811) written by 'a Lady of Distinction'! An amusing tale of beauty, elegance and taste originally written as a guide by the author for some women friends living in remote part of the West of England. A close attention to morality and manners runs throughout the book with warnings against actions likely to label a woman as a vain coquette or a slattern. According to the author, morality is conveyed by dress. 'Fine taste in apparel I have ever seen the companion of pure morals, while a licentious style of dress is a certainly the token of the like laxity in manners and conduct.' (p.19)
In complete contrast, Mary Wollstonecraft's book A Vindication of the Rights of Woman, 1792
(
read online
) (
listen online
)
"My own sex, I hope, will excuse me, if I treat them like rational creatures, instead of flattering their
fascinating
graces, and viewing them as if they were in a state of perpetual childhood, unable to stand alone." Mary Wollstonecraft